I can't believe I'm posting this pic, but I need to — for myself. So shit's about to get real.
I've had some happy-yet-stressful life changes within the past few weeks and have been funneling my anxiety and frustration into eating everything in sight. That's my go-to stress-reliever/celebration/punishment and always has been since childhood, which has given me quite the fucked-up relationship with food, something I've written about here before.
Because of this, I've struggled with my weight my whole life, as I've also written about many times before. The last few years I have really let myself go, and I hate myself for it because me — and only me — can prevent forest fires in myself.
I would NEVER allow anyone to treat me in such a manner, so why the hell do I allow it from myself? But I do, and the results are:
I stuff my face with the most unhealthy food I can find instead of what is best to fuel myself and my body.
Since I work from home now, I exclusively wear yoga pants day. in. and. day. out.
I don't take care of myself, at all. That includes getting hair cuts and the eyebrow wax that is, embarrassingly, MONTHS past due (thankfully I wear big glasses that (mostly) hide the caterpillars) and getting no exercise beyond multiple daily walks with my rescue pit bull, Kona.
I avoid looking at myself in the mirror at all costs because I absofuckinlutely hate myself that much, which means that I very rarely feel as confident inside as I may appear or pretend to be outside.
I have terrible insomnia, clocking just a few hours a night.
As someone who supports and is so inspired by the Eff Your Beauty Standards movement, I'm not very good at supporting or inspiring myself, obviously.
And that needs to change — right fucking now. For real. For good. I owe it to myself and my body. It's put up with a lot from me the past 42 years, and I sure as hell am not getting any younger. In fact, if my grandmother and mother are any indication, I'm in for a really rough road as I continue to age, one that can (hopefully) be avoided if I start taking care of myself.
My first step toward body positivity: The gym.
After coming home a sweaty mess after Kona's first walk this morning, I decided there was no time like the present to make my way from hating myself less to becoming body positive. That my old standby, "I'll start Monday after having one last weekend hurrah," was not good enough. Because we know all too well what'll happen Monday.
So I put my sneakers back on and headed down to our building's gym for the first time in who knows how long. I stepped onto the treadmill and for the next 30 minutes, booked it in a way I haven't done in quite some time since there's not a lot of fast walking with Kona Sniffs-A-Lot.
The entire time, I stared at myself in the darkened TV monitor attached to the treadmill. I stare at myself, no matter how upset it makes me, to entice myself to do better than the person staring back at me. To be the change I want to see in myself because I'm the only one who can do it.
As unhealthy as it may be, I hate her, that me in the reflection, I really, really do. Every time my foot hits the treadmill, I imagine I'm striking her for being stronger than me all this time. And I kind of get off that we're facing each other. That she's going to see me coming and stampeding her one day, hopefully soon.
When I stepped off the treadmill after my cool down, my very confused legs legit wobbled, and I thought I was going to face plant a la Bridget Jones, but luckily I stayed upright.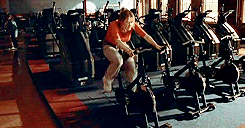 And then I took the above photo of myself. I felt disgusting when I snapped it, knowing I'd never be one of those athletic, fit women who post post-workout photos of themselves looking like they've hardly broken a sweat with nary a hair out of place and showing off their thigh gaps the size of Utah.
Nope, in it I'm sweating so profusely I had to take my glasses off because they kept slipping down. My double chin is on full display. My forehead is glistening, I'm trying to catch my breath, and my hair is frizzy and sticking up every which way.
I'm posting it because I hate it. Because I want to remind myself that I can't let that version of me in the TV monitor win anymore. I'm too unhealthy and unhappy with myself to let her.
To put her to pasture once and for all, I'm going to have to push myself harder, further and more often than I've ever pushed myself before.
I know that eating right is going to be just as important as establishing an exercise regime. I need to once and for all end my co-dependent relationship with food, and I think it's going to be even tougher than forcing my ass to the gym. Food has been a key relationship in my life since I was a little kid, and it ain't going to be easy to switch from salty, shitty, bad-for-me snacks and food to healthier fare. But, it must be done, and it's something I'll cover in subsequent post(s) I'm sure.
As always, thanks for reading, and if you've got any advice or personal stories you'd like to share, I'd love to hear them.
~ Nikki